Donapea, a school in Spain/Pamplona, and TBS1, a vocational college in Bochum, have celebrated their 10 years lasting school partnership.
Every year students of the TBS1 fly to Spain for a week to learn not only about the different behaviours in the laboratory but also about the local culture. Pamplona is a beautiful city that has a lot to offer. It is very well preserved, no matter where you go - there is always something exciting to see.
Even though the students had a full schedule, there was enough time to explore for themselves. It didn't matter if you went in a small group or if the Spanish students showed you the town and told you something about themselves and their culture. It was never boring.
Immediately after the arrival of the German students, they were welcomed with home-brewed beer and typical Spanish food. But the work is not long in coming, so the first day of work started in the lab, early the next morning. In every break there was a buffet prepared by the Spanish students. Otherwise there was breakfast and lunch from the chef of the canteen, who got along well with the German students despite the language barrier.
The analysis of home-brewed beer hardly differs from the analysis methods used by German pupils. The really interesting thing was the different behavior in the laboratory. Despite the older equipment, precise and good results were achieved.
It didn't take long until the first people arranged to do something together. The Spaniards planned the activities and invited the students from the TBS1. Activities like bowling and going in to pubs were selected. There was always enough to drink and eat. We really enjoyed the hospitality.
Apart of the sightseeing in Pamplona we were also shown a lot outside of Pamplona. One day the students went hiking next to a waterfall. Another day the students could settle down at the coast of San Sebastian. The farewell was difficult for everyone. There was not only collaboration in the laboratory, new friendships were made, too...
Jan Blocki, CTA17a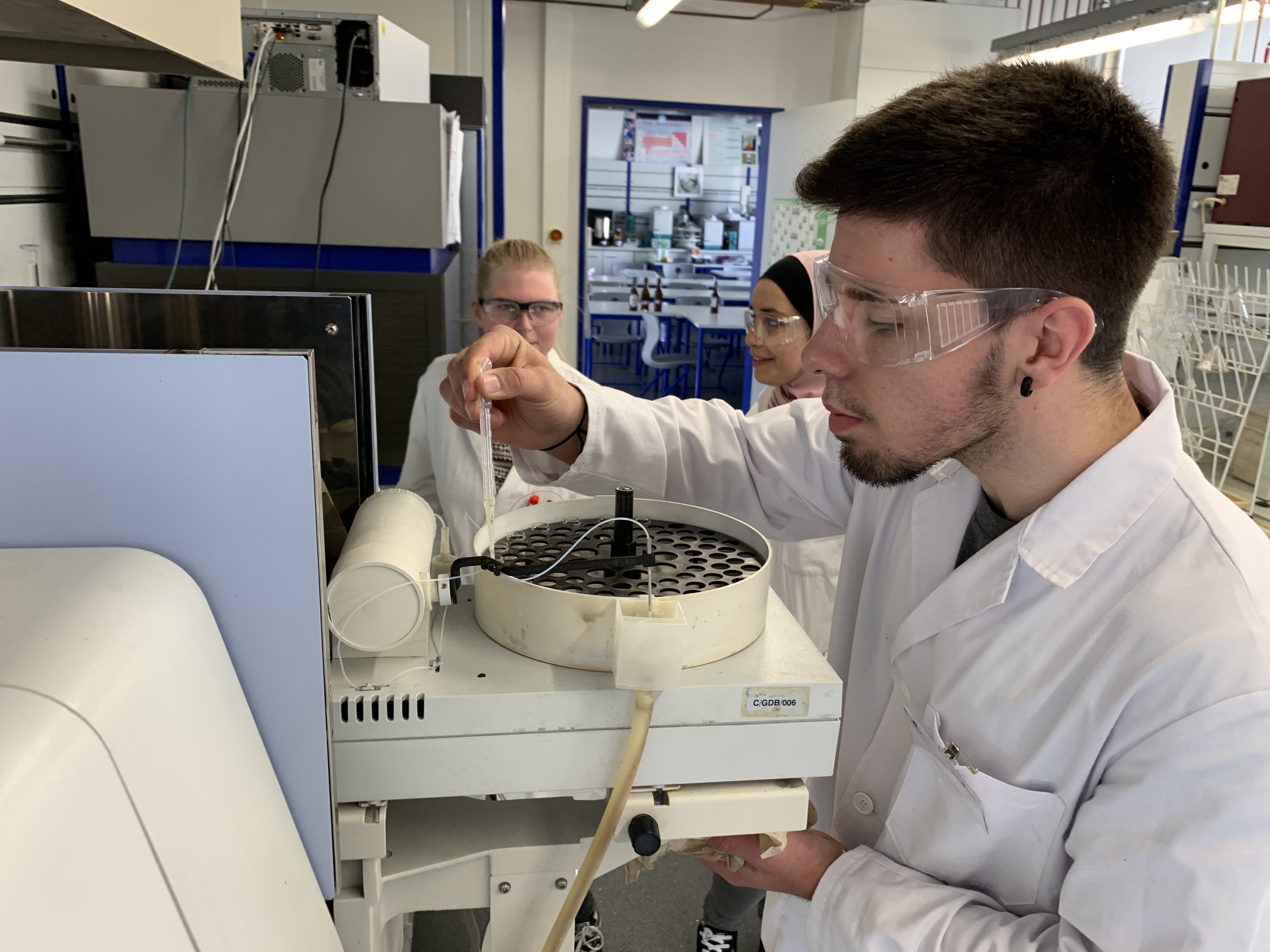 Bild: Spanische und deutsche Auszubildende analysieren gemeinsam Bier beim Gegenbesuch in Bochum